tales from a top chef dinner
how twitter gave me a firsthand taste of my favorite cooking competition
by alex b (@Lexistential)
8.18.10
general

Anyone who exists in my orbit knows that I love "Top Chef." Here at Intrepid Media, I've written about it a few times, from making fun of Jaime Lee Curtis's criticism to interviewing past competitors Stefan Richter and Robin Leventhal. In recent broadcasts of this current season of "Top Chef: DC", I live-tweet my trash-talking critical commentary while occasionally chatting with cheftestant Kenny Gilbert.

So, since 2006, I've generally reserved Wednesday nights for "Top Chef" viewings, and I've become used to my comfortable little ritual. However, this past Wednesday, fate decided it was time for me to get out of the audience and sit at the dinner table- with the current cast of "Top Chef: DC." That morning, I woke up to a Tweeted invite from Kenny Gilbert telling me I was welcome to hang out with him and the cast in downtown NYC.

I was floored. Holy frickin' sh*tballs. WTF? Twitter works? Seriously?

It took me a few hours to actually accept that I would really be meeting the chefs I've been watching, and knew there was no way I could turn this down. I would get to see if Kenny really did merit an Isaac Hayes-esque nickname in person, and maybe I would meet Angelo Sosa, this season's designated villain and leading contender. Hell, I would be eating alongside chefs, and listening to their dining criticisms firsthand.

The catch? I would miss the once-per-season Restaurant Wars episode. But, since I was going to actually meet the chefs at renowned Meatpacking hotspot Buddakan, I felt no disappointment whatsoever.

Kenny stood at Buddakan's entrance when I walked up. The self-described "Beast of the Kitchen" had invited more people via Twitter; so far, I was the only one who had shown up. I was thrilled to introduce myself and get a bear hug (yup, the muscles are impressive in person).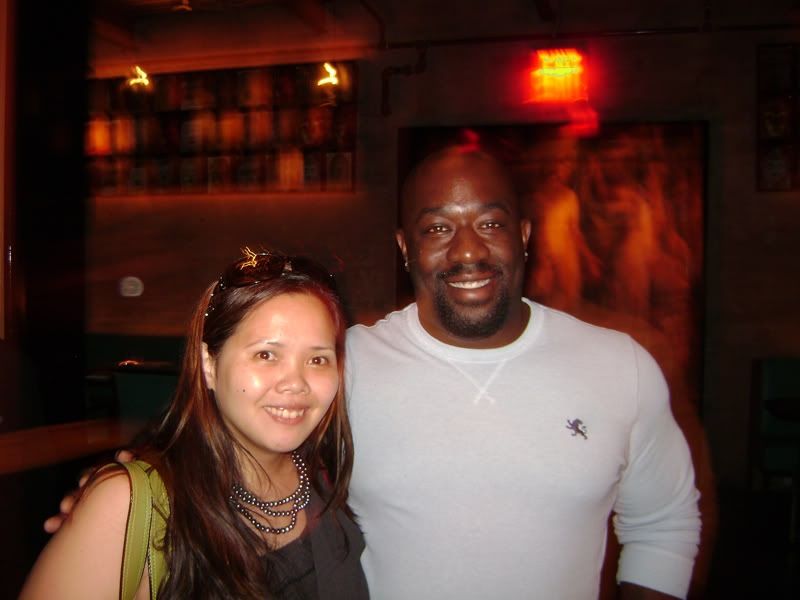 Within minutes, more cheftestants appeared on the sidewalk: Angelo, Tracy Bloom, Timothy Dean, and Stephen Hopcraft. After introducing myself and explaining my Tweeted invitation, we went downstairs to a massive rectangular communal table in the middle of Buddakan's dining area. Even though I hadn't had any alcohol yet, I felt instantly light-headed. I was really having dinner with "Top Chef: DC" in one of New York's hot spots, and definitely wasn't in the audience anymore.

Contrary to my expectations, I found myself seated in the middle section of the table while Kenny occupied one of the farther ends. Thankfully, I wasn't relegated to the opposite end of the table with other seemingly random guests, but sat amongst the cheftestants. Directly across from me were Amanda Baumgarten and Alex Reznick, and to my right was lanky, dreadlocked contestant John Somerville. Bumping elbows with me on my left side was none other than Angelo; realizing that I was eating dinner next to the Michelin star-winning, seemingly smarmy, Machiavellian bad boy of this season's show set off three words: Where's the booze?

Sure enough, a glass of nearby champagne calmed my nerves, and also allowed me to introduce myself smoothly to cheftestants Lynne Gigliotti and Kelly Liken- another of my favorite competitors- sitting nearby. Both were immediately warm and polite, even as Kelly respectfully asked me not to Tweet some of the things I was bound to hear at the table. (In the interest of helping my new acquaintances not incur severe legal penalties from Bravo, I agreed.)

As dinner got underway, conversation flowed easily with my nearby dinner companions. John ruefully admitted he shouldn't have used the puff pastry that led to his first-episode elimination, and also explained how the James Beard nomination process works. Angelo—clearly a man used to multi-tasking—chatted me up at regular intervals while orchestrating dinner courses and juggling other conversations.

However, not everyone around me was inclusive. Where John and Angelo were cordial, Alex and Amanda weren't. Alex seemed uninterested in engaging in conversation; I resisted an urge to utter the words "stolen pea puree." Amanda's facial expressions communicated scenes straight out of Heathers. Since she strangely opted to leave dinner to meet a mystery friend, I didn't have a further opportunity to see if she was any nicer (and would have liked one). But, just the same, I was content to eat without feeling any passive-aggressive hostility seated across from me.

Seeing the food served instantly shifted my focus. Though I didn't have the chance to sample Buddakan's signature tuna tartare spring rolls or soup dumplings, I tasted a little bit of everything else served: edamame dumplings, pork belly buns, cabbage-wrapped sea bass, glazed ribeye, pork belly, crab fried rice, seared pork, and crispy chili chicken. To my delight, the edamame dumplings were delicious, and one bite of the pork belly bun was enough for me to know that I can be seduced bribed with that dish.

But, to my surprise, not everything was terrific. The sauce of the glazed ribeye was said to have too much hoisin, while orders of pork were cooked inconsistently (my piece was dry, while others had juicier ones). When the chefs buzzed away and nitpicked all the dishes, Angelo was the most critical; having consulted for Buddakan before, he made it clear that his menu wasn't remotely present in what we've tasted. Though I am not a professional food critic, my palate felt his criticism was spot-on. Buddakan was beautiful that night, but I don't know many people who would have liked dry pork.

After an impromptu tour of Buddakan's kitchen and seeing "Top Chef: Chicago" contestant Dale Talde briefly grace the table, I met more of the cheftestants. Both Tamesha Warren and Tiffany Derry were immediately friendly and easy to fall in engaging conversation with, and are much prettier in person than they are on TV. Thai cheftestant Arnold Myint was just as impeccably groomed as he was in his "Top Chef" interview segments, and also fun and bubbly with me. I also exchanged quick words with a smiling, lightly cocktail-buzzed Stephen, who rapidly made me laugh (and had spent most of dinner entertaining the table). Unfortunately for me, though cheftestants Kevin Sbraga, Ed Cotton, and Andrea Curto-Randazzo were all present, I didn't have the chance to speak to them directly.

Upon wrapping up our meal with a selection of not-that-great sorbets and a confusing ginger flan that I'd rather not taste again, I had the chance to speak to Kenny and Angelo candidly about the show. Both agreed that their season has a tough act of following "Top Chef: Las Vegas." Additionally, they respectfully received my point of view as a longtime viewer who felt (and still thinks) that their season's editing was more skewed than necessary, and the challenges could have favored the chefs' talents more. Though they didn't share more than general opinions with me, Kenny and Angelo were quick to emphasize that they collectively liked each other as a cast. From what I saw, I believe them, and am more inclined to cast a skeptical eye towards Magical Elves's editing (which, to me, has gotten more heavy-handed since Lee Anne Wong's departure).

And, bless their hearts, Kenny and Angelo agreed to have a picture with me:




The end of the night arrived soon after that picture was taken, with most of the chefs eager to depart for an undisclosed club. As we made our goodbyes, I noticed Angelo's complete outfit: a wildly funked-up Brady Bunch print shirt, black skinny jeans, and pimped out black high-tops with dark gold rubber sections. Angelo might have dressed for dinner like a complete douchebag, but hardly behaved like one in person.

As I walked away from the chefs, I was ready to hop on the train, go home, and watch the Restaurant Wars episode I had missed (where, alas, the judges killed eliminated Kenny). And, I couldn't help smiling. My dinner was an instance I could never have predicted before, but I now know that the hugely unexpected can be possible.

Twitter can take a girl places. Who knew?


ABOUT ALEX B
An expert in coloring outside the lines while reading between them, Alex B has a head for business, bod for sin, and weakness for ice cream during all seasons. Apart from watching Bravo marathons and enjoying haute bites here and there, she writes about TV, pop culture, and coloring outside even more lines. She sneaks Tweets via @lexistential.

more about alex b


IF YOU LIKED THIS COLUMN...
COMMENTS
no discussion for this column yet.